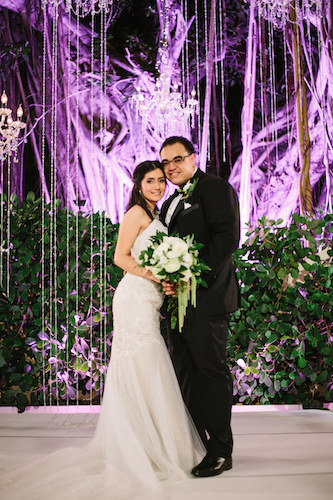 After 12 years together, it is my pleasure to now say – Kristin and Luis are now husband and wife! Congratulations to the lovely couple. My team and I had an amazing time making their vision come true. This wedding was truly magical at the Coral Gables Country Club in South Florida. 
Kristin looked absolutely stunning in her gown that I personally designed for her, it simply symbolized and embodied her remarkable story. I love, love, loved seeing the reaction on her face when we revealed her first look in front of her wedding party. She even almost had me crying!!! As I guided Kristin toward her father to escort her down the aisle, I could see the joy in her face that this incredible woman was about to get the wedding of her dreams. 
Luis was waiting down the aisle in style in his tuxedo, also designed by Michael Andrews and myself, looking directly at this bride-to-be in awe of how breathtaking she looked. 
After the two wed, I took them to view their reception and the look on both of their faces was priceless. I had listened and gave Kristin exactly what she wanted. An enchanted Twilight feel of a wedding. With flowers draping from the ceiling, chandeliers, crystals, and greenery galore. I am so very proud of my team for helping me execute this wedding. 
Kristin was incredibly brave to share the news at the reception of her test results, and the results were life changing. She's CANCER FREE!!!!!! There was a whirlwind of emotions from all of the guests, including myself. Happy tears and joy of the news, but that wasn't the only surprise. 
Before we needed the night I had the couple come with me to the outside of the venue. On behalf of Ford Motor Vehicles Kristin was gifted a brand new car!!! From a woman who felt that she lost her independence to shifting her mindset into positivity, I am so thrilled she can gain that independence back. 


I write this as I am on a plane headed back home to reunite with my beautiful family. I missed them so much, and what I realized in this week's episode is to live life, love, and spread happiness. I couldn't agree more with Kristin!!!
Don't forget to smile, 
David
Tune Tuesday nights 10PM EST @Lifetime