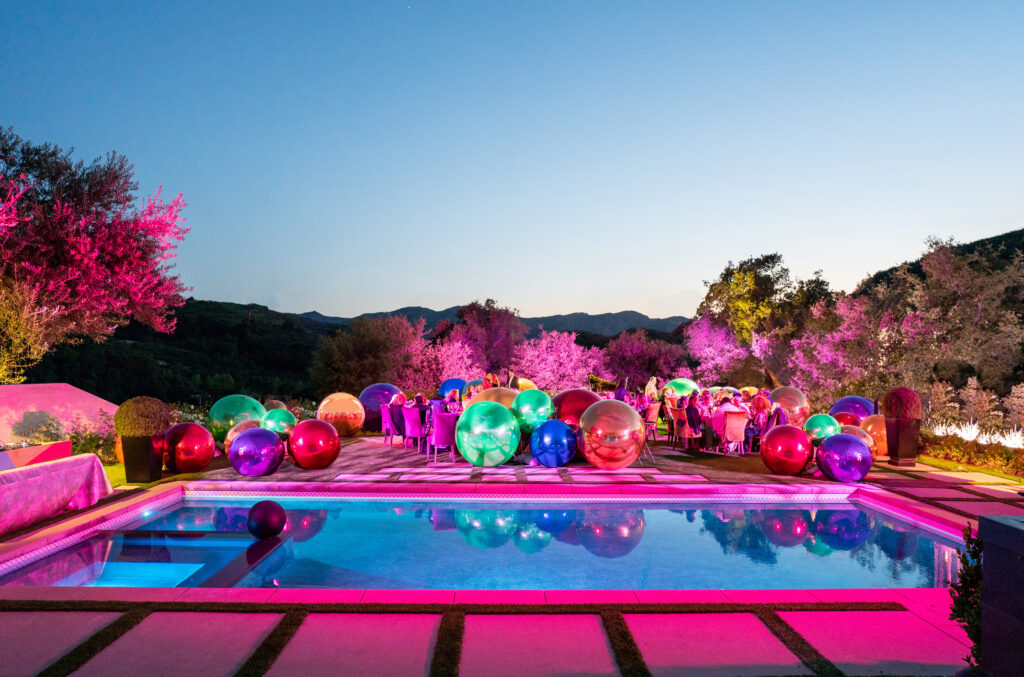 Birthdays are amazing moments to celebrate.  I wanted to host my Birthday with a focus on my guests and not on myself. After the few years, we have had it was important to me to bring to life a space of Happiness, LOVE, and Connection. I reached out to my friends near and far, and even relationships that had slipped away simply due to life.  Everyone I had wished to be present showed up.  For me, it was a way of reminding everyone how much I love them all and how much I respect and appreciate them for being in my life. My husband and my two remarkable daughters led the tribe and they teach me and guide me and bring me joy every single day.   

My vision for my Fifty "Something" Birthday Celebration was all about BEING BOLD, creating FUN, combined into an explosion of COLOR.  
Each table was designed in a monochromatic color. Purple – Green – Yellow – Orange.  
The flowers were all designed in color per table, as were the tablecloths, all of the china and glasses, and the stunning chairs. It was a burst of happiness per table and it was like stepping into Willy Wonka's World of Imagination.   
This team of experts who brought my vision to life:
Theoni Collection of Beverly Hills helped to paint my designs with their elegant and modern china, glasses, flatware, and chairs. #Theoni #TheoniCollection #TheoniBeverlyHills

TGIS – Provided fabulous cuisine and impeccable service for dinner. We had the most delectable entree of a Chilean Sea Bass, Roasted Caramelized Chicken Duet, Smoked cauliflower, Lemon & Shallot Roasted Fingerling Potato with a Vegetable Bundle
#TGISCatering #TGIS #TGISLosAngelesCatering 
Amber Event Production – Illuminated the entire space with saturated colors that coordinated with the colors of the party and produced all the sound needs.  #AmberEventProduction #AmberEvent #AmberEventsLA
Cloth Connection sent over the perfect linens to color coordinate with the monochromatic table creations. 
The FLOWERS – well I personally had to make sure my hands and eyes were on this –  so I decided to personally design the floral creations for all the tables (after all I started my career with flowers)  A total of (40) colorful creations for the dining tables and areas throughout.   
On top of the design, there were oversized spheres in all the colors that were installed throughout the entire celebration space. 6ft in dimension to as small as 3ft in diminution.   It was an art installation of color that literally surrounded the dining and entertainment space.   
As guests arrived and enjoyed the evening it brought happiness, smiles, and joy to everyone which was my goal….to make everyone feel the LOVE, HAPPINESS, and JOY!
I made sure to have two surprise performances for this evening by the baby grand piano.  
Jimmie Herrod from America's Got Talent sang his heart out with a vibrant selection of song choices. To finish off the evening with heart and love, we were ALL graced with song and stories by the remarkable Mandy Harvey also from America's Got Talent.   
Both my daughters stole the night with Gracie (3 years old) singing Happy Birthday and then a moment of "This girl is on fire", and Cielo (8 years old) starting the evening off with a sweet and heartfelt speech to her daddy.      
This was a night I will never forget!!!! "The Beauty of Celebrating LIFE!"