Newport Rhode Island opened its doors & their hearts when welcoming The DAVID TUTERA EXPERIENCE 2021.
I lived in New England for the first 35 years of my life on the east coast.   I have had the joy of experiencing the four seasons in a year and loving the change in color and change of weather. Eventually, I moved to Los Angeles, CA which is quite different than the history and landscape of New England.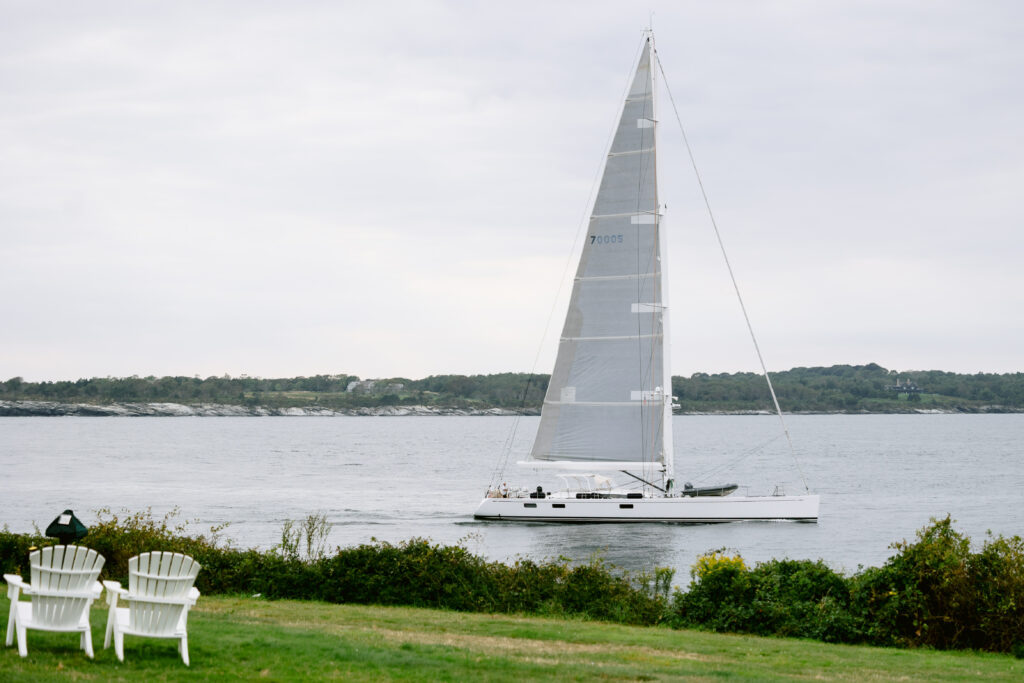 As we were searching for our next DTE location for The DAVID TUTERA Experience, I wanted a place that was unique, quaint, special and beautiful on the east coast.   I wanted an environment that attendees would travel to and experience history, breathtaking views, historic charm and beauty!     
The search was short simply because I realized Newport, RI was the only place that would check off all my wishes and more for The DAVID TUTERA Experience 2021. Thank you to Discovery Newport for opening up its doors and welcoming us to Newport, Rhode Island so we could create, design and produce our most epic, emotional and brilliant DTE for all our attendees and educators.
The DAVID TUTERA Experience is all about elevating the Special Events Industry with brilliant educators in the categories of business, life coaching, digital media, and sharing personal life stories that help increase confidence and showcase that we all our different and we are all on our own individual journeys in life.  We also work very hard to bring educators in, that lift up our attendee's spirits, souls and minds to allow them to truly see that they can live up to their full potential.  Our goal is to bring to our attendees the tools and foundation to elevate their knowledge and allow for all our attendees to depart from DTE with an abundance of confidence!
We believe that being inspired, and being engaged and listening to one another and feeling that deep connection to yourself and your peers provides everyone a journey toward success. All our brilliant and carefully selected educators come from all over the globe to speak on many topics, and we are always forever grateful for the time they spend with us at The DAVID TUTERA Experience and the engagement with all of the attendees over the course of three days.      
What I am deeply proud of, are all of the vendors from Rhode Island and Massachusetts for providing their talent and their time. I asked…and they all said YES to be part of DTE! They all showed up and showcased their talents as well as the stunning venues, the cuisine, the flowers and all the details for each of the three evening events. When I say every night was epic and unique… it is true!
Our goal is to educate during the day and create stunning and emotional evening events at night, that are also teaching moments for our attendees to learn and experience ideas that they can take back home for their own clients. From design, to venues, entertainment, printed materials, tabletop, linens, Lighting and Sound and specialty gifting and more.
So without further adieu… I wish to extend a deep, sincere level of gratitude for their time, passion, energy, creativity and brilliance, in bringing to life The DAVID TUTERA Experience in, Newport, Rhode Island!  Without the creative team (our vendors) we would not have had the most breathtaking three days together in Newport, RI.   
Venues:
Castle Hill provided us the classic charm, grace and beauty of its venue, breathtaking views, a caring staff, and a team that was invested in bringing our first night of DTE to life!  My wish was to create a setting that felt like heaven….   and it was truly a "Dreamy" night for all.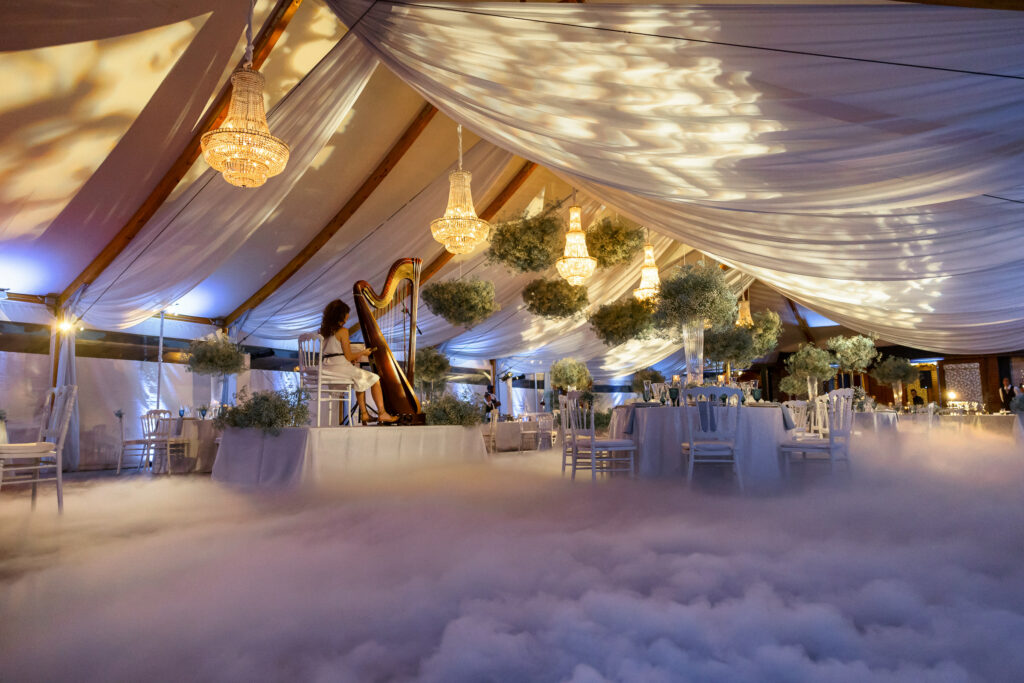 Belle Mer-This all white canvas at Belle Mer allowed for us to build The DTE Restaurant where we created a modern dining experience for all our guests.   The icing on the cake was Mandy Harvey's beautiful and bold performance as she entertained us throughout dinner.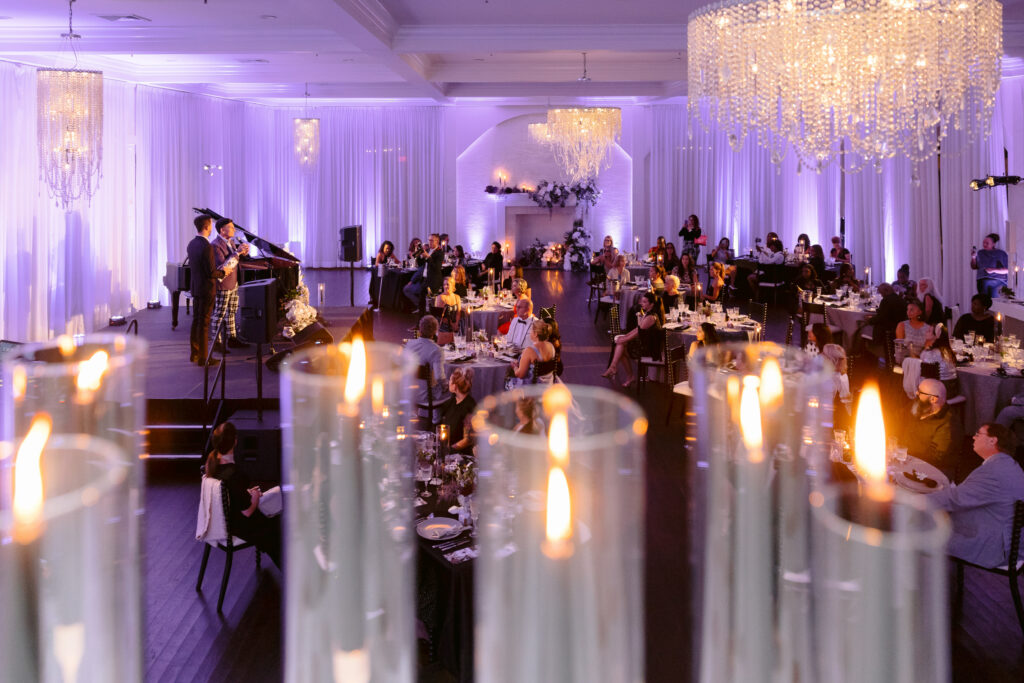 Salve Regina University: Ochre Court-My goal for our final night gala was to create an evening of Italian Romance.   The Ochre Court is a magnificent setting to host any event let alone a night filled with drama, grandeur and beauty.   I wanted all our attendees to feel as if they were transported to Italy….and the goal was achieved!!!!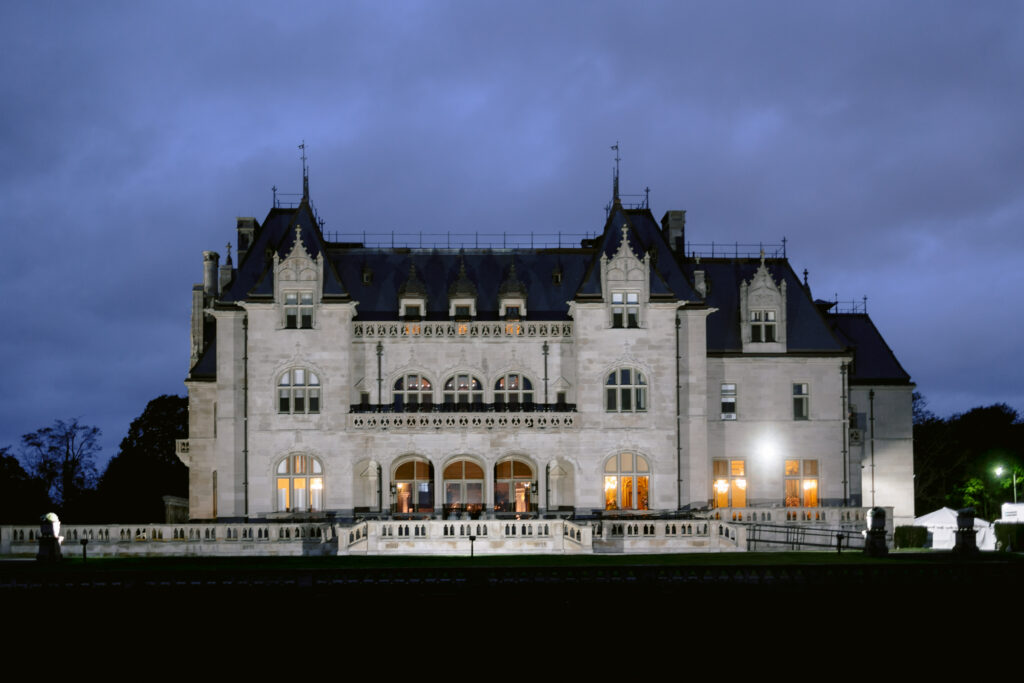 Creative Partners:
Jet Fresh Flowers-When you create a relationship with a company and it works and there is deep respect amongst each other you know you have a great team to work with.   Jet Fresh provided all the flowers for the three evening events, and our live hands on floral session with CeCe Todd of CeCe Designs and Events.  They made it possible for our talented teams of floral designers to bring each all of my designs to life.  Thank you Jet Fresh for caring, for stepping up and being present and for being a professional and stellar company that shows up and makes it happen.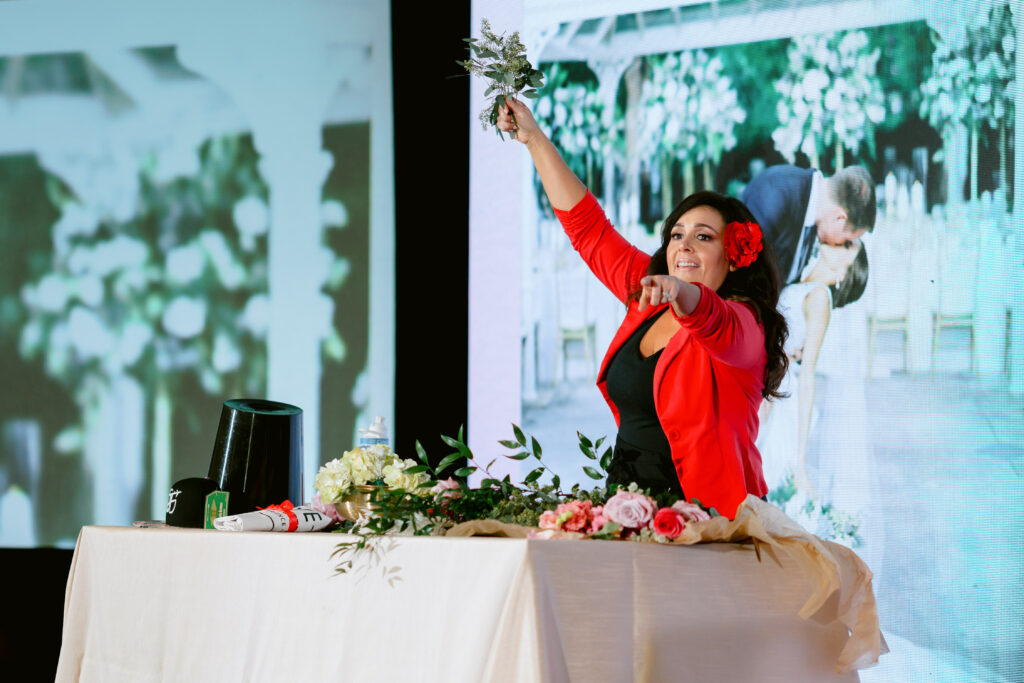 Peak Event Service-The jewelry of the table is what makes dining tables brilliant, and filled with texture and elegance and fun.   Peak was there every step of the way providing – linens, chairs, bars, table top rentals, furniture and so much more, therefore, allowing for each evenings vision and our education space to shine and be seen.     
CJC Lighting and Production-Lighting IS everything when you want to create emotion and beauty. Thank you to the team at CJC Events from the low lying smoke to the breathing lighting and sound for every single evening event.  Your talent is fabulous and your team is kind and caring and always on top of every detail that we were hoping for and more.  YOU LIGHT up our industry…thank you!
Alex Paul Photography-A picture is worth a thousand words… and that is true with Alex Paul and his brilliant work in capturing the moments, the stories and the beauty.    When you find a photographer that is not only creative but also kind and caring you hold onto that photographer.  Watching him edit his work on the floor during the days and providing immediate images to show was fabulous. We are grateful to have Alex on our DTE team and we look forward to having him join us again for our next DTE in Jamaica 
Willow Tree Films –Greg understands cinematography and feels emotion and sees the beauty. That recipe of emotion and talent is what allows for Greg to capture footage and tell a story.  Capturing footage is the first step,  but the brilliance is – Greg fully understands how to showcase emotion through the breathtaking editing and music.  Greg was not just behind the lens of his camera he was in the moment and part of the experience.    WE look forward to having Greg join us at DTE in Jamaica to bring to life more story telling and more beauty.    
DJ Valentina-Music makes the moment…..and when you have a DJ that understands emotion, drama and energy……..its GOLDEN!    For me, to find that combination is rare, and when you find it you hold it close.  DJ Valentina understands every vibe, and moment I was looking to create. She was my conductor to emotion via music. Her beauty, her grace and her personality is a wonderful combination that I know all our guests appreciated as much as I did!
Russell Morin Catering-Five star cuisine….perfection in service and a history of excellence in the events industry.   Russell Morin Catering provided exactly the menu that transported your taste buds into several regions of Italy at our final gala evening event.  Thank you for your pristine level of service and dedication in excellence in the events industry.
Floristika Studio-I met Floristika through a close friend in Boston who shared with me this company.  When we met via zoom…I knew she would fully appreciate my vision for our first night event.   I wished for night one to feel like a Dreamy Evening that felt like we were in heaven.   With an abundance of babies in the ceiling and seen as the only flower for all the dining tables, accents on chairs and around the stages of the live harpists that performed. Floristika Studio took us to heaven and back with their soft, romantic and graceful designs.  
Fleurevents-For our second evening of beauty and elegance my goal was to create a modern design evening. Fleurevents was the perfect fit for this evening called the DTE Restaurant.  Flowers in gray, black, white and lavender made the centers of the tables feel like art.  Simplicity sounds easy but it takes an artist to understand how to use less to create beauty.   Success was created…from the table designs, to the epic creation at the fireplace and the brilliant masterpiece that of flowers that embellished the baby grand piano on the stage.      
Letter Meets Paper-I love to mix mediums and textures. Letter Meets Paper created lovely silver leaves that were infused into the floral creations as well as accents to each of the place settings.  The unexpected use of paper simply added an element of surprise in the overall design of the tables. 
Flowers by Semia-Elegance, Sexy, Sultry with Romance and a bit of chaos is the unique descriptions of how I wanted to see our FINAL night Gala come to life with flowers.     When I shared my vision with Semia, she didn't pause for a moment….she fully understood my design.  Semia is a true floral artist filled with passion and ready to take on the unexpected. The final evening gala "Italian Romance" was over the top breathtaking and thank you to Semia and her team for bring to life an evening of beauty through the art of flowers.    Bravo!!
Drape Art Designs–Monica, the owner of Drape Art Design, was one of our very first vendors that said yes to be part of DTE.  Her installation of fabrics for our first and our last night softened the spaces and added the romance and drama. Monica and her team also added chandeliers into the tent at Castle Hill Inn and then later on our last night at Ochre Court. The combination of fabric and the drama of chandeliers made both nights unique and special. 
Momental Designs-Story Telling is what we do for a living. Momental Design created the wonderful story via art and paint in all of our printed materials. The colors spoke to each of the evening events. The lanyards for guests, the notes, and daily agenda all were breathtaking.  It is not just the words that tell the story its that art that brings the story to life, which is what Momental Designs provided for DTE in Newport.
Newport Vineyards-The entire team at Newport Vineyards was excited from the first communication we shared to be part of DTE.    We are very grateful that they joined our team on Night 1 and Night 3.  Newport Vineyards white wine, red wine and rose were paired perfectly to each of the evenings' menus. Their gracious support and enthusiasm is appreciated.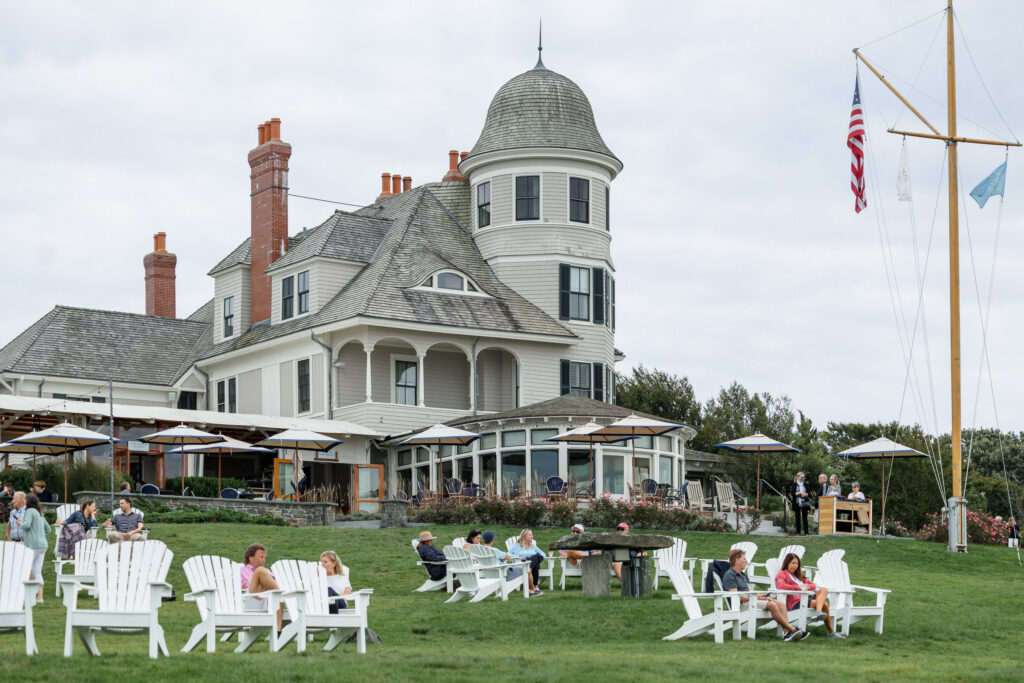 We are SO excited for our next DTE which will be held in Jamaica. For all of the exciting details, click here.
"The celebration of life is being present, looking forward to tomorrows new adventures, and truly being excited for all the parties that are yet to come! Celebrate life every day! – David Tutera