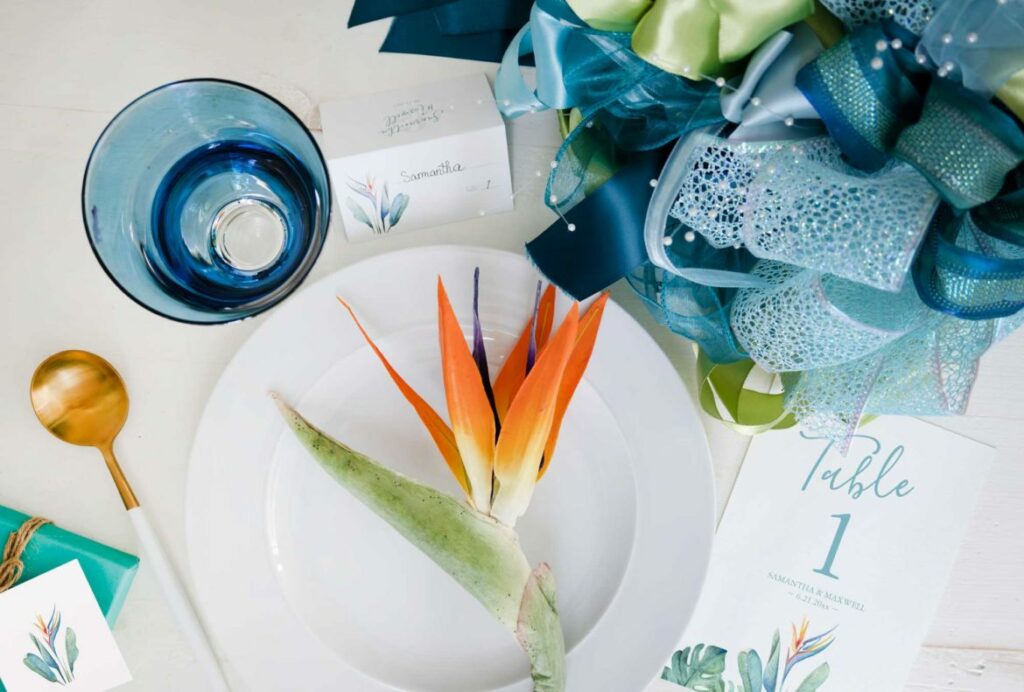 TIE IT TOGETHER WITH COLOR WHEN TYING THE KNOT
We love symmetry, especially when it comes to wedding planning. From styles to color schemes, opportunities abound for your personality to shine. Bow K® recommends incorporating your wedding palette into all of your stationery.
Set the tone for your wedding with consistent colors on everything from save the date cards to the myriad of invitations (bridal shower, bachelorette, rehearsal, and wedding). Your unique style should also be visible on table cards with seat assignments as well as on the many thank you notes you will be writing.
Do Tell
Victoria Grigaliunas is an immensely talented artist from Palm Beach Gardens, Florida, and a former Rhode Islander, who specializes in hand-painted watercolors. She is the mastermind behind the creative lifestyle blog Do Tell A Belle, her site for personalized invitations.
"I love how watercolors translate into my products," said Victoria. "Living in southern Florida, I get inspired every time I walk out my door. From palm fronds to sea turtles to the exquisite Bird of Paradise, the tropics make a stunning backdrop to my work." 

Introducing the Gift Ribbon Theme 
One of Victoria's shower invitations caught our eye immediately. We love how she used tropical green and blue on her stationary line, conveying a unified color scheme. 
With a simple copy addition, you can reap big rewards. Make note of the wedding colors/ribbon theme on the invitation. Victoria's example for Samantha states that her colors are tropical green and blue. Brides will love seeing their gifts wrapped in the suggested hues reflecting their palette. 
"It's such a great idea to use the shower invitations to identify the color scheme," said Victoria. "As a designer, I see the value of taking every opportunity to pull the colors together in a uniform way—not only for the 'wow' factor at the event, but for the ever-lasting images taken by the photographer. Brides will love the results." 
Creating a Cohesive Keepsake 
The tradition is a long-standing one. As the Maid of Honor collects the ribbons and bows from the bridal shower gifts, she creates a ribbon bouquet. This sentimental keepsake is used as a prop for the bachelorette party and rehearsal. At the wedding, this bouquet can become a complementary decoration on the place card table where the seat assignments are displayed. Using a Bow K will greatly elevate and simplify the process.
Keep It Consistent 
The wedding colors and imagery can be continued for post-event cards, as well as wedding party gifts. Victoria has an extensive line of custom giftware in her Etsy store VG Invites that will also reflect the spirit of the occasion. By extending your personal style consistently, the wedding will be more memorable for guests, and for you. 
Color Schemes, Not Wedding Themes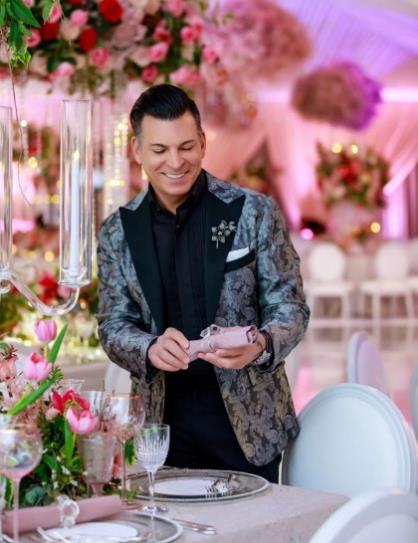 Bow K tapped the one-and-only David Tutera, Bow K's favorite wedding and entertaining expert, designer, and speaker, to get his take on tying a wedding style together. 
"Don't pick a theme because you think you have to have one," said David. "Weddings do not need a theme, unless of course, it makes sense for who you are as a couple." 
According to David, great weddings can be based on overall color schemes, ambiance, and style. The wedding stationery is a big part of the equation as it tells a story. 
"The color scheme and wording of the stationery set the energy and tone of the event," said David. "It's also the first chance to get your guests invested in your special day." 
Here at Bow K, we're invested in helping brides make their wedding as magical as possible. By introducing our readers to talented professionals like Victoria, we hope to have inspired you to communicate your colors and carry them through every wedding detail, from bows to bouquets. 
Cheering you on,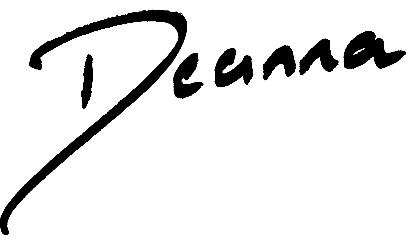 About Victoria 
Victoria's lifestyle blog, Do Tell A Belle, focuses on entertaining, décor, and DIY projects. It features her passion for all things pretty, her love of cooking, and an obsession with creating her invitations line. Do Tell A Belle, available on Zazzle, specializes in beautiful and classic invitations as well as personalized gifts. 
Watercolor painting is her passion when it comes to her stationery and gift line, but Victoria works in many mediums, including oil, pen and ink, and charcoal. She has had much success with custom furniture painting. Victoria also serves as a Senior Graphic Designer and Product Photographer for the Garden of Life in West Palm Beach, Florida.